Shopping Online Versus Shopping In-Store Calculator
Cyber Monday and Black Friday are just around the corner and discounts are already started to pop up. They may look enticing on the surface, but it can be difficult to figure out whether a big-box retailer or an online store offers the best savings. We have created this calculator to enable you to compare the savings available online with those being offered in-store to ensure you make the best decision for your back pocket.
The advantages of shopping online and in-store
Online shopping and shopping in physical stores each have unique advantages for the average shopper. What are they and which would suit you best?
The advantages of online shopping
A key advantage of online shopping is that you can do it at any time of the day or night and are not limited by the opening hours of physical stores. Also, a lot of the time, express delivery is available, so you can order something today and have it delivered to your door tomorrow.
The convenience of online shopping also extends to location. Rather than having to visit a bricks-and-mortar establishment, online stores can be accessed from anywhere. With online shopping, you can buy what you need snuggled up in bed rather than having to drive, navigate crowds, and wait in line at the check-out.
Online shopping can also offer consumers significant time-savings as different products and offers can be compared right there on the screen with no need for you to traipse around from one location to another.
Customers can also benefit from the huge variety available online. Online shopping frees consumers from geographical constraints and allows them to access goods from all over the world.
Finally, physical stores are expensive to run. In a physical store, retailers have high overheads, including salaries, obtaining and storing stock, and rent. Online stores can avoid a great many of these costs, allowing them to offer you better deals.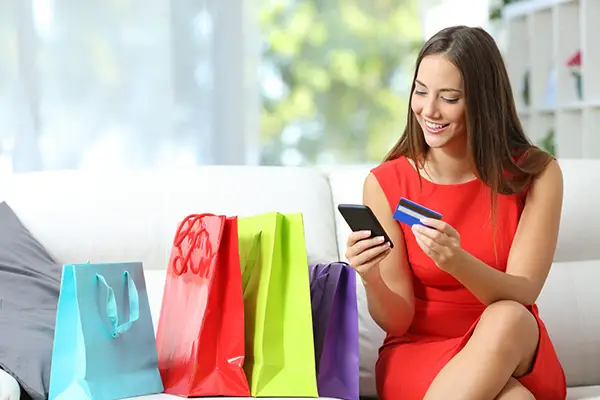 The advantages of in-store shopping
The greatest advantage of in-store shopping is that it gives consumers the chance to see products in-person and try them out. This gives consumers greater confidence when making a purchase.
Moreover, as a result of being able to see, touch, and try products, as well as ask salespeople about your prospective purchases, you are less likely to need to return a product you buy in-store than a product you buy online, saving you time and hassle.
Additionally, if you buy something in-store, you go home with it then and there and can start using it straight away. There is no waiting for the delivery van to turn up.
Visiting a store and taking the items you purchase home with you also means that there are no shipping or delivery fees to pay. You just pay the ticket price and that's it.
Finally, the pleasure and enjoyment of going shopping, of visiting store after store to find just the right product, is a significant benefit of in-store shopping for many. For some shoppers, online shopping will never match the in-store experience.
You may also be interested in our Unit Price Calculator